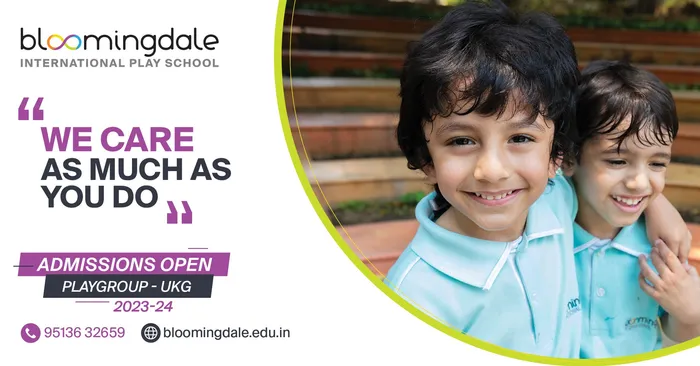 🎈🎉 Bloomingdale International Play School - Where Care Meets Education 🎉🎈
Greetings from the Bloomingdale International Play School family! 🎈 We're dedicated to creating an environment where your little ones will feel just as loved and cared for as they do at home. 🏠💖
We understand that choosing the right play school for your child is a momentous decision, and we're here to reassure you that, at Bloomingdale, we care as much as you do. 👨‍👩‍👧‍👦
We offer an enriching, engaging, and exciting curriculum that supports holistic development. 🌳 Our programs are designed to instill a love for learning, to encourage curiosity, and to nurture every child's unique potential.
Our team of highly trained educators are passionate about what they do, creating a nurturing environment where your child can thrive. From fostering creativity 🎨 and exploration 🕵️ to teaching critical life skills and ensuring emotional well-being, we do it all with immense love and dedication.
The safety and well-being of our students is our topmost priority, and our campus is equipped with modern amenities, ensuring a safe and secure learning environment.
Join our Bloomingdale family and let's bloom together, shaping a brighter and better future for our children. 🌸🌈
#BloomingdaleInternational #PlaySchool #ChildCare #EarlyLearning #EducationWithCare #BloomingTogether #BloomingdalePlaySchool #EarlyEducation #ChildCenteredLearning #NurturingTheFuture #WeCareAsYouDo #kindergarten #kindergartenclassroom #kindergartengraduation #kindergarten #kindergartenready #kindergartenteacher #kindergartenactivities #playschool #playschool #playschools #playschoolfun #playschoolnearme #playschooleducation #playschooladmission #playschoolactivities #playschoolfun